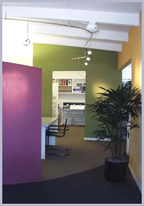 Atelier Bart Ancheta, Inc. is a San Francisco Bay Area based architectural firm dedicated to serving its Clients to the fullest. It is located at the heart of the Silicon Valley in northern California. Established by Bart D. Ancheta, Jr. AIA, who also founded the now defunct Atelier Design Group (ADG) in 1995, is the current Principal Architect and Chief Executive Officer.
Since 1986, Bart D. Ancheta, Jr., AIA has provided exceptional quality and dependable service in the architectural arena. He brings to every project a commitment to design excellence and client satisfaction. His list of clients to whom we continually receive repeat business speaks directly to his commitment. Our diversified staff, managed directly by Bart Ancheta assures that our clients needs will be met for projects of virtually any size or complexity.
Atelier Bart Ancheta, Inc. specializes in Commercial Buildings, Office Buildings, Medical/Dental Clinics, Churches, and upscale Residences. The firm is currently diversifying its portfolio to include commercial projects such as shopping centers, retail strips, gas filling stations and various corporate tenant improvement projects.

Atelier Bart Ancheta, Inc. is dedicated to the strong belief that there is no better achievement than having a well served client.